Click on an item below to learn more.
Serving the needs of dogs, cats, and their humans.





Contact Info:
Cheryl Falkenburry
Center Hill School
Cheryl's Phone: 434-591-6113
cheryl
@centerhillschool.com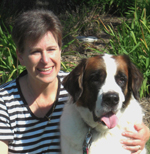 From the United States to Japan and England, Cheryl Falkenburry has traveled the world helping people make sense of mind-boggling animal behavior. Working with animal behaviorists in Tucson, Arizona and England, majoring in psychology, and becoming a certified parenting educator prepared Cheryl to teach both humans and animals. Cheryl recognized that the concepts of positive parenting and loving leadership worked whether her clients were parents of human children or furry ones and applies her positive parenting skills to her animal training sessions. She has helped thousands of people develop new and exciting relationships with the animals who share their lives.

Featured as the Ask Cheryl Pet Lady in her weekly column in the The Rural Virginian, Cheryl spreads the word on the importance of positive leadership, guidance, training, and socialization to help animals become good furry and feathered citizens in a human world.

Although Cheryl has semi-retired, she still offers limited private in-home sessions for dogs and cat and e-mail consultations when appropriate or can refer local people to a qualified trainer. Check out her dog training book In Delilah's Eyes: Training From A Dog's Perspective, which was released on June 24, 2009 and is selling like hotcakes on Amazon.com or directly from Cheryl.

Click on the Private Sessions or Books by Cheryl buttons to the left to learn more.