Click on an item below to learn more.







Contact Info:
Cheryl Falkenburry
Cheryl's Phone:
434-591-6113
cheryl@indelilahseyes.com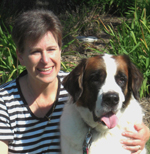 Cheryl and Delilah
Learn more about Cheryl


Book Sales
Books are available for sale:

Happy Tails
194-A Turkeysag Trail
Palmyra, VA 22963
434 589-0846
Weekdays 10 am to 6 pm
Saturday 9 am to 5 pm
Closed Sunday

Caring For Creatures
352 Sanctuary Lane
Palmyra, VA 22963
434-842-2404

Online: www.indelilahseyes.com
www.amazon.com


Serving the needs of dogs, cats, and their humans.
Ever wonder why your dog seems so stubborn? Does it seem like your dog is just doing things to upset you? Your dog's behavior may be mind-boggling, but have you ever stopped to think how your behavior looks to your dog? Animal Behavior Consultant, Cheryl Falkenburry, takes you on a journey into dog training from the dog's perspective. Through the eyes of her canine colleague, Delilah, you will learn how human behavior appears to dogs and how you can change the way you interact with your furry friend in order to close the communication gap between people and dogs.

In Delilah's Eyes shows how to enhance the human-animal bond by teaching skills to your canine companion which are useful in the human world. By using positive simple training steps, you can teach your dog how to become a good canine citizen in your household and the community.


The books are in! There are a few different ways to currently purchase.
Save 20% off the cover price when you purchase directly from Center Hill School's website--$11.96 + .60 tax for a total of $12.56.
If you would like to use a credit card to pay for your order, click on the "Buy Now" button below. This will send you to a PayPal page to complete your order. It is not necessary to have a PayPal account.
If ordering more than 6 books, please contact us for wholesale discounts and shipping costs.
You may also purchase a copy through Amazon.com, but you will not be able to receive the Center Hill School discount.

Thanks for your interest in
In Delilah's Eyes
. Please do not hesitate to e-mail or call if you have any questions.
A special thanks goes out to Phil at Signature Book Printing for the professional and personal help he provided in the final layout and printing. To learn more about Signature Book Printing go to
signature-book.com